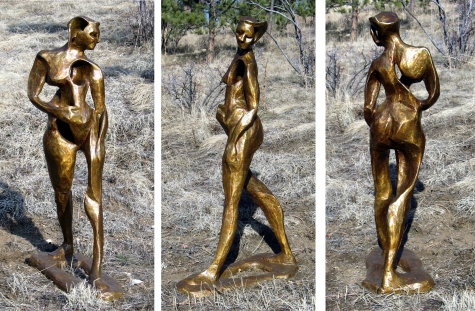 "Upon Reflection" was juried into the 2010 Evergreen Sculpture Walk and was on display near the famous Little Bear Restaurant in the heart of downtown Evergreen, Colorado. This sculpture can now be seen at the Lakewood Cultural Center in the Belmar district of Lakewood, Colorado until August 19, 2012.
"Upon Reflection" explores positive and negative space. Movement is created by flowing connections from one shape to the next. The spaces exaggerate the interplay of light and shadow, accentuating the form relationships which change as the light changes during the day. The negative spaces also represent the part of a person that are given away. One's thoughts, heart, feelings, and energy are shared with others during a lifetime. This figure pauses to reflect upon this dynamic flow.
Please contact Ann with questions about purchasing or knowing more about this four foot tall bronze sculpture.